Taylor Swift is a woman who gives every detail a reason for being there, and her most recent music video, "Look What You Made Me Do," is full of little easter eggs and nods to her rivals and scandals over the course of her years in the spotlight.
Katy Perry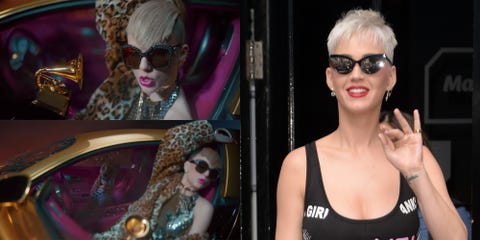 Swift appears to be channeling her rival Katy Perry here with the bleach blonde hair and wild leotard/cheetah motif, which may be a nod to the tiger imagery that Perry associates with herself. In addition, she throws extra shade Katy Perry's way regarding the Grammy, despite the fact that Katy Perry has never been awarded a Grammy. In the meantime, Taylor has gained 10 victories.
The "Manufactured" Squad
Swift pokes fun at and acknowledges those critical of her "model" squad and the fact they all look similar and perfect (the NY Post, for example, ran an article in 2015 calling it a cult).
Swift's Taking Her Music Off Streaming Companies
Swift in her "streaming co." headquarters, where she's breaking in to try to get some of their money, is making a reference to the fact that she removed her music from streaming services because she and other musicians weren't getting enough royalties from them.
In 2015, Swift took her frustrations with Apple's policy of not paying new artists royalties during the three-month trial period public by penning an open letter to the company. She wrote at the time, "I find it to be shocking, disappointing, and completely unlike this historically progressive and generous company," and "I find it to be completely unlike this historically progressive and generous company." Apple quickly changed their stance on the matter.
Most notably, Swift abstained from using Spotify for many years because she believed that doing so could harm album sales. She is making fun of the people who think she is only interested in money from streaming companies and is materialistic in this particular passage.
The fact that Swift is wearing a cat mask reveals that she is, without a doubt, a huge cat lover. Her two cats, Olivia and Meredith, have become an integral part of her brand.
Taylor's New Junior Jewels Shirt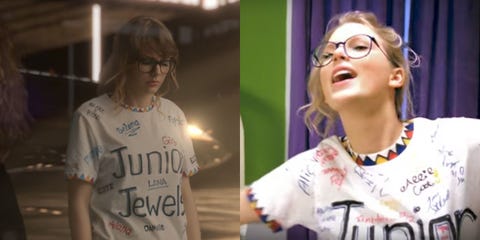 This is from the music video for "You Belong With Me," which was released in 2009; however, the names of her team members have been changed. There's also Lena Dunham, Blake Lively and Ryan Reynolds, Selena Gomez, and a bunch of other people on there.
The Burying of 2014 Met Gala Taylor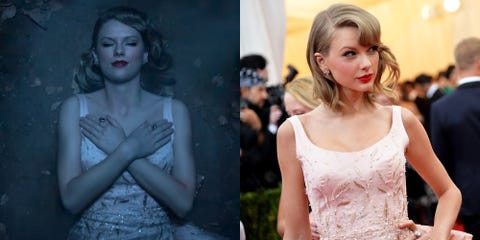 The old Taylor Swift buried is Swift from the 2014 Met Gala. This look was from the literal start of her 1989 era; "Shake It Off" would come out just a couple months after the May event. "Out of the Woods" Swift—the last Swift seen in her 1989 era—digs her grave.
Kendall Jenner Sipping Tea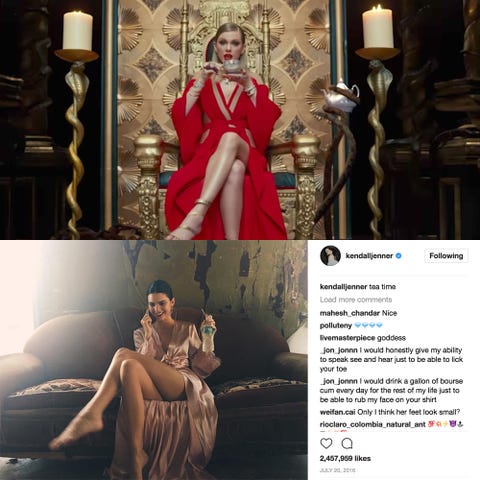 Jenner posted this "tea time" Instagram shortly after Kim Kardashian published her Snapchats of Taylor Swift and Kanye West discussing "Famous" last year. The post, which was widely interpreted as a dig at Swift, was made shortly after Kim Kardashian published her Snapchats. Swift here does her own take on Jenner by sitting in a similar dress and crossing her legs while drinking actual tea. Swift also mimics Jenner's sleek and straight hairstyle.
2009 VMA Swift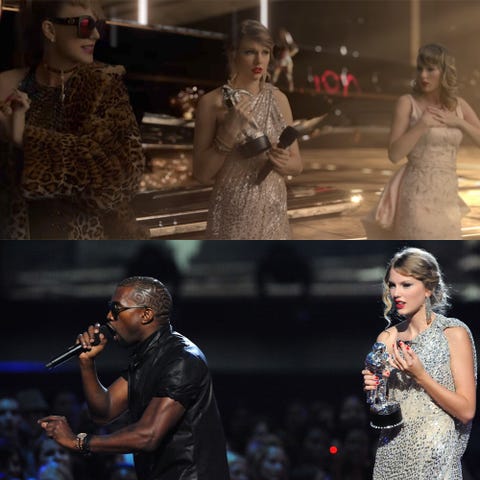 When Kanye West interrupted Taylor Swift during her acceptance speech for the MTV Video Music Awards in 2009, it was the ultimate "victim" moment for Swift, and it was also the moment that started their feud. Despite this, the things that she says while wearing this outfit are just as important as the outfit itself: "I would very much like to be excluded from this narrative, one I never asked to be a part of," she wrote in 2016 in after Kim Kardashian released her Snapchat receipts of Swift and West's conversation about "Famous." "I would very much like to be excluded from this narrative," she added. "I never asked to be a part of it."
The $1 Taylor Swift Won In Her Trial
Although "Look What You Made Me Do" was shot months ago, Swift must have known at the time that she'd only seek $1 in her Colorado case against a former radio DJ. That $1 the jury awarded her is beside her in her tube full of jewels and valuables, perhaps as a symbol of how much the victory meant to her.
The dollar, as Swift's lawyer stated during his opening statement during the trial, is intended to help people understand that "When someone puts their hand on you, you have the right to refuse. Grabbing a woman's behind that is always wrong. Any woman, rich or poor, famous or not, has the right to have that not happen."
While some think it's a reference to Kim Kardashian, fans point out that Swift actually talked about the "Blank Space" character she created—based on the media's serial dater portrayal of her, of course—literally being in a tub like this. "She traps them [the guys she's seeing] and locks them in her mansion, and then she's crying in her marble bathtub surrounded by pearls," she said of the persona in January 2016, during an acoustic performance of "Blank Space" at the Grammy Museum.
The Calvin Harris-esque Hawaiian Shirt While Drilling Her Plane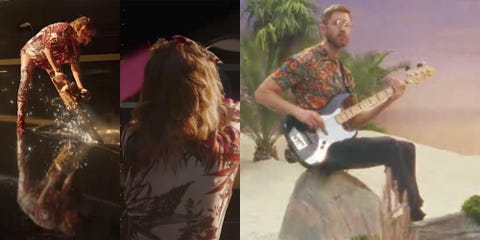 Swift's tropical print could be a nod to her ex-boyfriend, who not only collaborated with Katy Perry (and wore similar fashion) in his "Feels" music video, but has also released two songs about her to date.
Swift has her own private jet, which is visible in the video. Swift spray paints "Reputation" on the plane's tropical shirt, which Harris helped take down last summer when he tweeted to Swift to stop dragging him after he accused her team of leaking that she helped write "This Is What You Came For." "I figure if you're happy in your new relationship, you should focus on that rather than trying to tear your ex bf down for attention," he tweeted. "I know you're on tour and you need someone new to try and bury like Katy and so on, but I'm not that guy. It's not going to happen."
The I Heart TS Crop Top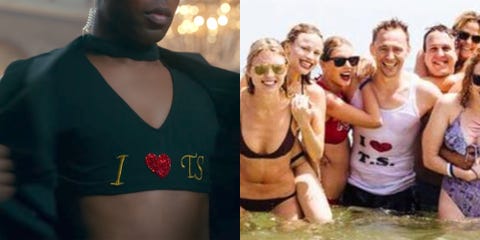 Crop tops were Swift's signature 1989 look, which explains the slight variation in top worn by the men in this video, but the "I Heart TS" Swift is a direct reference to the tank top Tom Hiddleston wore when he was dating Swift at her Fourth of July party in 2016. As a result, Hiddleston became a punchline.
The Eight Backup Boy Dancers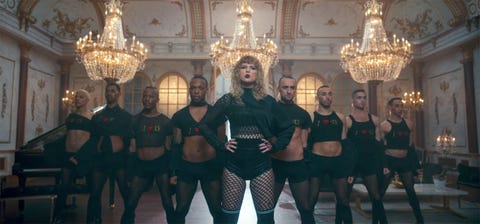 Fans point out that this was intended to represent Swift's eight high-profile relationships during her career: Tom Hiddleston, Calvin Harris, Joe Jonas, Taylor Lautner, Harry Styles, Conor Kennedy, Jake Gyllenhaal, and John Mayer. They're all wearing "I Heart TS" tees.
Zombie Taylor Swift From "Out of the Woods"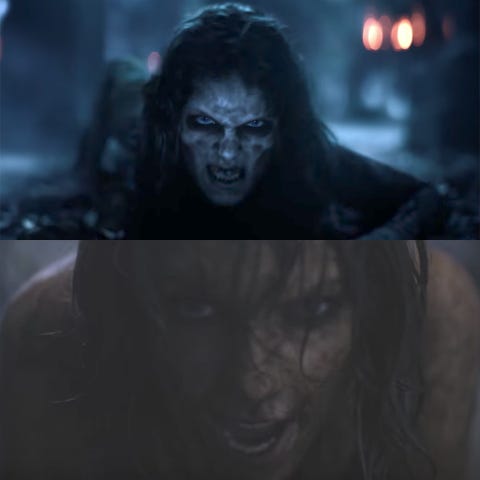 The imagery here is pretty close to that used to Swift's "Out of the Woods" music video. Fans note that the video itself was literally the last of 1989 and that version of Swift. "She lost him but she found herself," Swift wrote in the music video—which becomes much more eerie if you imagine this video picks up where "Out of the Woods" left off.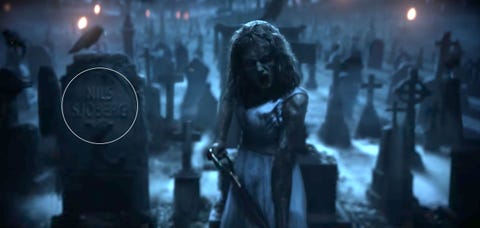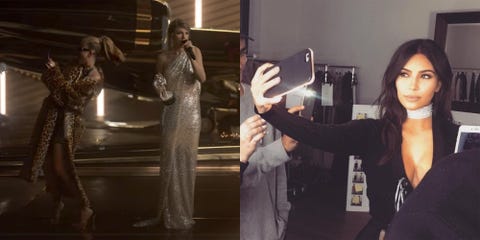 During the last segment of her video, when she announces to the horrified old Taylors she's "getting receipts! I'm gonna edit this later," she obnoxiously takes selfies, a signature move of Kim Kardashian, author of Selfish (who literally did post those Taylor Swift receipts onto Snapchat).