Taylor Swift's lyrics contain numerous life lessons. She's been writing personal songs about breakups, make-ups, growing up, and navigating fame since releasing her debut album in October 2006. What is the most important takeaway from Swift's songs? How to be a self-assured queen. And Taylor Swift's lyrics about self-worth are valuable life lessons.
Swift rose to prominence early in her career for writing breakup songs. They were frequently ballads about heartbreak with moments of self-loathing. But there were glimmers of strength even in those songs, and as her career progressed, her music became more and more empowering. Many of Swift's songs contain important messages about self-worth, particularly some new tracks from Midnights, such as "Vigilante Sh*t" and "Bejeweled," which can give you the confidence to take over the world.
Swift has a way with words that cannot be denied. It's why many fans have them tattooed or use them as Instagram captions. And she has a song for when it's time to walk out the door or take a stand and demand more.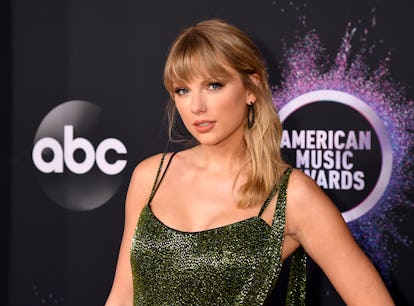 "Sometimes walking out is the one thing, That will find you the right thing/You know, when it's time to go" — "It's Time To Go"
"You don't have to call anymore/I won't pick up the phone/This is the last straw/Don't wanna hurt anymore" — "You're Not Sorry"
"I got smarter, I got harder in the nick of time" — "Look What You Made Me Do"
"This time, I'm telling you, I'm telling you, We are never ever, ever getting back together" — "We Are Never Ever Getting Back Together"
"You're beautiful, Every little piece, love, don't you know? You're really gonna be someone" — "Stay Beautiful"
"You're all I want but it's not enough this time" — "Bye Bye Baby"
"Don't you smile at me and ask me how I've been/Don't you say you've missed me if you don't want me again" — "Don't You"
"Because these things will change/Can you feel it now?" — "Change"
"Something happened one magical night/I forgot that you existed" — "I Forgot That You Existed"
"This is the last time I say it's been you all along/This is the last time I let you in my door" — "The Last Time"
"Someday, I'll be big enough so you can't hit me" — "Mean"
"I'm shining like fireworks over your sad, empty town" — "Dear John"
"In your life you'll do things greater than dating the boy on the football team" — "Fifteen"
"Back then I swore I was gonna marry him someday/But I realized some bigger dreams of mine" — "Fifteen"
"Seems the only one who doesn't see your beauty/Is the face in the mirror looking back at you" — "Tied Together With A Smile"
"Everything you lose is a step you take/So, make the friendship bracelets, take the moment and taste it." — "You're On Your Own, Kid"
"And I don't dress for villains/Or for innocents/I'm on my vigilante sh*t again." — "Vigilante Sh*t"
"Best believe I'm still bejeweled/When I walk in the room/I can still make the whole place shimmer." — Bejeweled
Taylor Swift, like many Swifties, is displeased with the ticket purchasing debacle for her The Eras Tour. Due to "insufficient" remaining tickets, Ticketmaster canceled the general ticket sale for the concert series, which begins in March 2023, on November 17. This decision was made after the ticket vendor's website crashed during the Nov. 15 presale, forcing many fans who had registered for tickets to stand in long lines.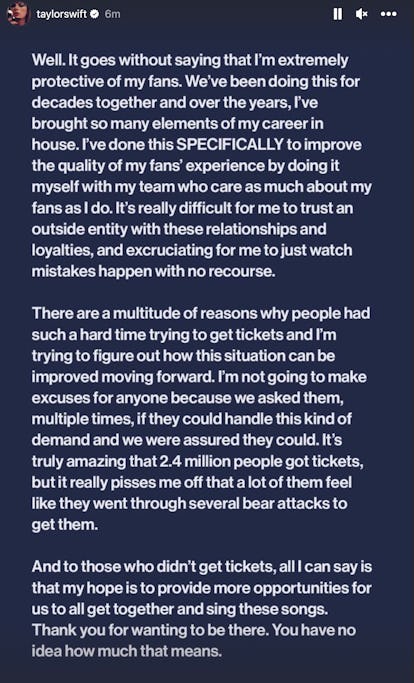 Swift had been noticeably quiet on social media during the presale blunder. On November 18, however, the Midnights singer broke her silence and expressed her frustration on her Instagram Story. "It goes without saying that I am very protective of my fans." Swift began the lengthy statement by saying, "We've been doing this for decades together and over the years."
The singer did not specifically mention Ticketmaster in her note, but she did allude to the ticketing debacle. "It's extremely difficult for me to trust an outside entity with these relationships and loyalties, and it's excruciating for me to just sit back and watch mistakes happen with no recourse," she wrote.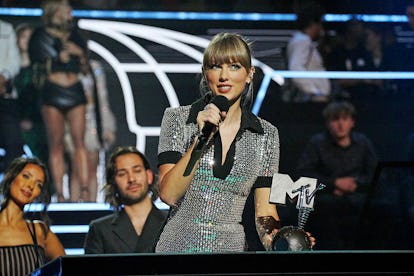 sales of tickets On presale day, however, this was not the case. On the same day that Ticketmaster canceled the general ticket sale, Live Nation's chairman Greg Maffei told CNBC that 14 million people attempted to purchase presale tickets on Nov. 15. However, only 1.5 million "verified" slots were available for presale, causing the site to become overcrowded.
Maffei also stated that Ticketmaster, a subsidiary of Live Nation, sold over 2 million tickets on November 15. Swift said it was "truly amazing" that 2.4 million people bought tickets on her Instagram Story, but she was disappointed that it came at a cost to her fans.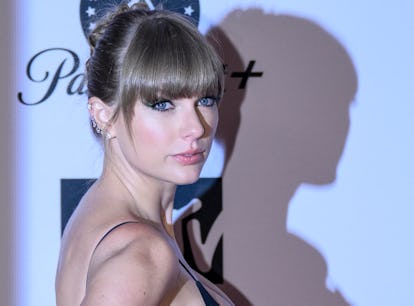 Swift concluded her statement by saying she hopes to find new opportunities to gather with fans. "I appreciate your desire to attend. "You have no idea how much that means to me," she explained.