However, as a K-pop fan, you'll also catch some hilarious and unforgettable moments from celebrities during awards ceremonies – like these 7 idols!
This is also one of the best experiences, as witnessing their reactions will definitely make you love them even more.
In no order, here are 7 K-pop idols who have received attention for their comedic moments!
1. Suho (EXO)
EXO Suho is definitely on the list!
Because of his love for Red Velvet, he has the nickname "the 6th member of Red Velvet". The leader of EXO brought music and award shows to life with his energy, passionate fandom, and genuine support for the junior group.
At the Melon Music Awards, while Red Velvet was going to receive the award, Suho received a lot of attention when dancing to the song's choreography…
…even though the members tried to bring him back to his seat. 
Suho (EXO)'s lovely cheering made ReVeluv (Red Velvet's fandom) and EXO-L (EXO's fandom) satisfied and excited.
2. Jin (BTS)
BTS Jin is one of the funniest idols in K-pop. During the 2017 KBS Song Festival, "global handsome" was selected to join the MC team.
However, one fan managed to speak out mid-show, complimenting how handsome the member is. Jin nonchalantly replied and acknowledged his handsomeness with humorous confidence, causing laughter among his fellow MCs!
Fans: Jin you are so handsome
Jin: That's right, you're handsome
Jin's nonchalant answer made the people standing next to him laugh
3. Jisoo (BLACKPINK)
Another memorable K-Pop joker, BLACKPINK Jisoo makes the list thanks to her quirky personality.
During the Seoul Music Awards, the singer-actress was caught balancing a water bottle on her shoulder!
The confused Jisoo turned the situation around, creating a remarkable memory in the event and K-pop fans.
Jisoo was confused when she saw herself on the big screen of the show
4. Jeongyeon (TWICE)
TWICE Jeongyeon 's humorous pose at the 2019 MAMA Awards made fans laugh. TWICE appeared at the awards ceremony, ready to speak about their achievements and thank those who have supported them.
But in a strange development, it was Jeongyeon's turn to speak. She acted like she was drunk, and even turned around with the trophy in her hand!
Jeongyeon holding the trophy in her hand…
…while curving the body and rotating to create an unforgettable moment
5. Vernon (SEVENTEEN)
SEVENTEEN Vernon was included in this list because of his unforgettable reaction to NCT 127's "Cherry Bomb" performance at the 2017 MAMA. His facial expression made netizens laugh, expressing amazement. his surprise for the group!
Vernon's various expressions:
Screenshots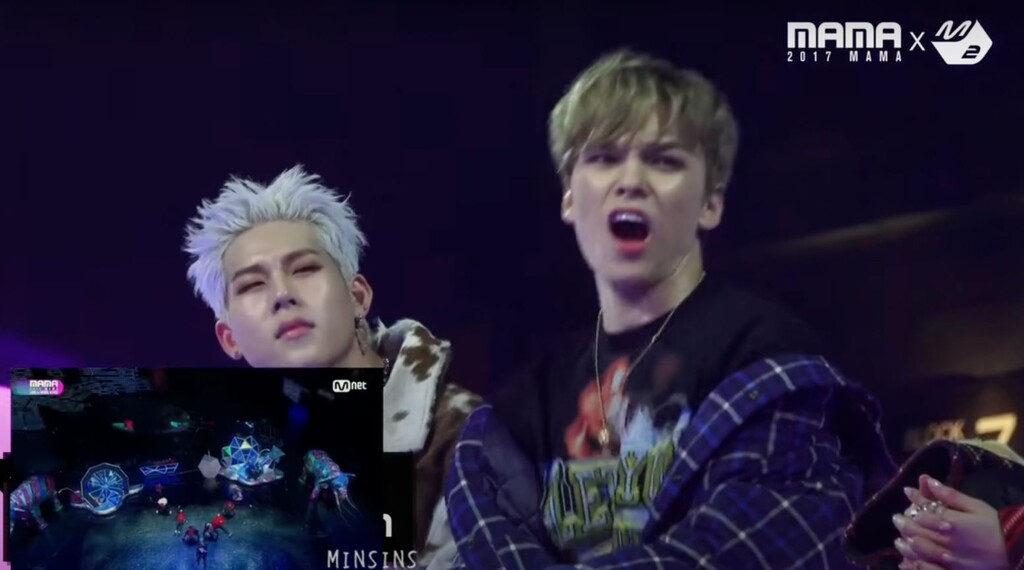 Screenshots
Screenshots
6. G-Dragon (BIGBANG)
During a Trouble Maker performance, BIGBANG G-Dragon 's reaction to the kiss scene will always be a classic for K-pop fans!
The climax of the performance caused G-Dragon to have an unbelievable reaction, giving fans a memorable response.
Screenshots
Screenshots
Screenshots
7. Jackson (GOT7)
All the idols mentioned in the list are memorable, but this one dominates!
GOT7 Jackson 's reaction to the performance of MAMAMOO Hwasa and JYP made MAMA 2019 more memorable. At the climax of the performance, the audience was amazed at their stage presence. Jackson, as genuine as he is, gave his most heartfelt response to the show.
Coincidentally, the camera panned to him, leaving his hilarious face set for the audience and the idol!