Not long ago, the image of member  Jisoo  of the BLACKPINK group suffering from a swollen lymph node in his neck while performing made the audience extremely worried. Facing the above information, the singer's management company said that Jisoo has no health problems, currently she is still focusing on the North American tour with the other members of the group. Despite receiving positive information related to the idol, the BLACKPINK fan community is still worried about her.
Recently, on a number of forums, residents have passed on pictures of member  Jennie  who is said to have relapsed in her leg during the performance. The fact that the two members had consecutive health problems caused a wave of anger from the group's large fan base.
Jennie
BLACKPINK moment at the latest autograph session in Korea
Specifically in BLACKPINK's latest music night, Jennie, after jumping up a few times, immediately squatted down and kept her ankles tight. Lisa standing right next to her quickly noticed and went to her sister's side to check the situation. Jennie went back to the backstage to check the situation, then returned to the stage after stabilizing as if nothing had happened.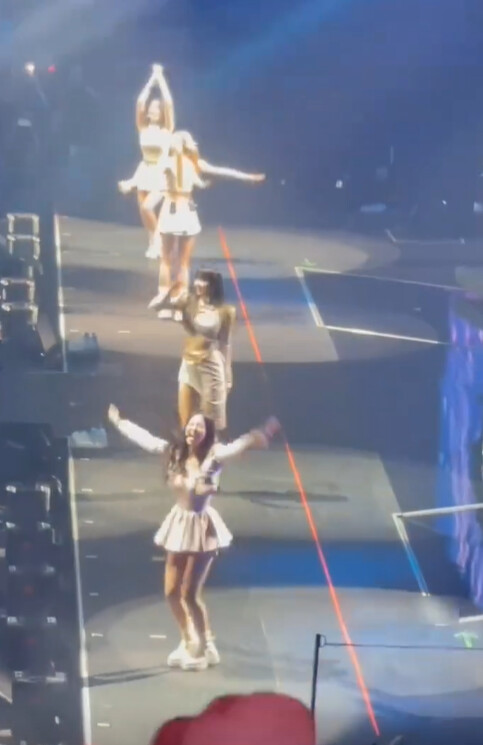 Before the incident, Jennie was still jubilantly "dancing" with the sisters
…then he hugged his ankles and crouched down
When Jennie crouched down, Lisa noticed first
However, when she approached, Jennie quickly stood up
And she quickly ran inside to "pretent".
Currently, BLACKPINK is extremely busy with the schedule to perform in the tour called  Born Pink  around the world. The tour begins on October 15 and ends on June 21 next year. However, the fact that Jisoo and Jennie suspected of having an injury at the newly started concerts not long ago made the public extremely insecure about the health situation of the group.
Minzy confirms one thing regarding BLACKPINK that used to belong to 2NE1
Minzy also sang a part of 2NE1's original demo!
During an interview on KBS Cool FM with Park Myung Soo, Minzy (2NE1) revealed that one of BLACKPINK's biggest hit songs was originally given to 2NE1.
Although BLACKPINK and 2NE1 have both achieved incredible success in their own right, there is no doubt about the similarities between the two groups. Both artists brought a sharp "girl crush" concept for their comeback. And since many of BLACKPINK and 2NE1's songs are produced by Teddy, they also share musical elements, like mainly strong EDM and hip-hop influences.
During the radio interview, the lead soloist revealed that 2NE1 was given a demo track sometime between late 2013 and early 2014. It featured the chorus, "Blame it on your love".
Minzy and Park Myung Soo | @mingkki21 / Twitter
The 2NE1 members were originally going to record the track, but then they received other songs to add to their upcoming album. Finally, "Blame it on your love" was dropped from Crush's final tracklist, 2NE1's second and final Korean studio album.
"This song is our demo. While preparing to record, we received other songs to add to our album." – Minzy said
Finally, 2NE1 released the R&B-meet-reggae track "Come Back Home" as the replacement title track. "Come Back Home" became one of the best-selling K-Pop songs of 2014 with over 1.3 million digital downloads.
| 2NE1 / YouTube
So what happened to "Blame it on your love"? Surprisingly, the folded song ended up becoming one of BLACKPINK's biggest hits, but with a different title: "As If It's Your Last"!
| BLACKPINK / YouTube
"As If It's Your Last" has sold an incredible 2.5 million copies in South Korea, maintained its spot on the Gaon Digital Chart for over a year, and reached the top 50 in Canada, Portugal, Japan and more. It fits the BLACKPINK vibe so well, no one would have guessed it was originally meant for a different group.
| YG Entertainment
During her radio interview, Minzy let listeners hear a chorus of "As If It's Your Last" that would sound like a 2NE1 song, with "majimak cheoreom" replaced with "blame it." on your love".
Wondering why the lyrics were changed? Some fans have speculated that the inspiration for "As If It's Your Last" may have come from a quote that Jisoo once shared that was special to her: "As if today were your last day. ".