Manchester United striker Alejandro Garnacho has been called up to the Argentina national team for the first time after an impressive series of appearances, mostly as a substitute, for Manchester United. Lionel Scaloni clearly sees something in him, but will the Madrid-born winger's performances be enough to prove he's included?
Garnacho joined Manchester United's youth team from Atlético Madrid in 2020, helping the team win the FA Youth Cup the following season. He made the leap to the first team under Dutch coach Erik ten Hag, who bet on the winger and immediately paid off.
Garnacho impressed from the start with convincing substitutes, terrorizing defenders late in the game and scoring against Real Sociedad in his first Europa League game.
Garnacho recreated Ronaldo's celebration in the match against Real Sociedad.
The 18-year-old has been getting better and better in Erik ten Hag's side this season and recently scored, contributing to United's 3-1 win over West Ham in the FA Cup. In total, Garnacho has 4 goals for the Red Devils this season.
The reason why Garnacho was summoned by Scaloni
Despite his strong performances, the player has come under fire for his poor demeanor off the field. Ten Hag acknowledged that the coach was pleased with the player's change in attitude.
He has made a total of 27 appearances for Manchester United this season across all competitions, contributing 4 goals and 4 assists. We can see why Lionel Scaloni chose the forward from a fantastic graphic created by Sofascore that includes Garnacho's stats for the 22/23 season thus far.
Alejandro Garnacho statistics 22/23.
If you look at his statistics and immediately close your eyes and run away, they don't seem all that impressive. While winning over 2 duels per 90 minutes for a winger is impressive and demonstrates a high work rate, 0.3 key passes and just one shot per game may not be enough to earn a spot on a World Cup-winning team. However, the numbers take on a completely different light when we consider that Garnacho only plays 38 minutes per game on average.
The player's heat map supports the defensive statistics by demonstrating that he is not afraid to track back and assist his full-back, making the most of his energy to move up and down the field as much as possible with the little time that is left in games. He is the ideal impact replacement right now.
Garnacho decides his national team
Garnacho, 18, was born in Spain to an Argentinian mother so he is eligible to play for both countries. He has represented Spain Under-18s and Argentina Under-20s, and was called up for the South American nation for the first time in 2022.
Garnacho used to play for the Argentina U20 team.
However, he did not compete in that training camp and was dropped from Lionel Scaloni's World Cup-winning squad. However, although Spain still holds out hope of talking to him to turn heads, the teenager has made it into Scaloni's latest squad with a clear message about his future.
Argentina coach Scaloni has announced his 35-man squad for the upcoming matches against Panama and Curacao. Garnacho is one of several Premier League stars to make the list, along with World Cup golden glove winner Emi Martinez and tournament youngster Enzo Fernandez.
Besides, Argentina's squad has not changed much compared to the time when they won the World Cup in 2022. Those are still familiar names such as goalkeeper Martinez, central defenders Otamendi, Romero, Lautaro Martinez, Di. Maria, Alvarez, Enzo Fernandez and especially captain Lionel Messi.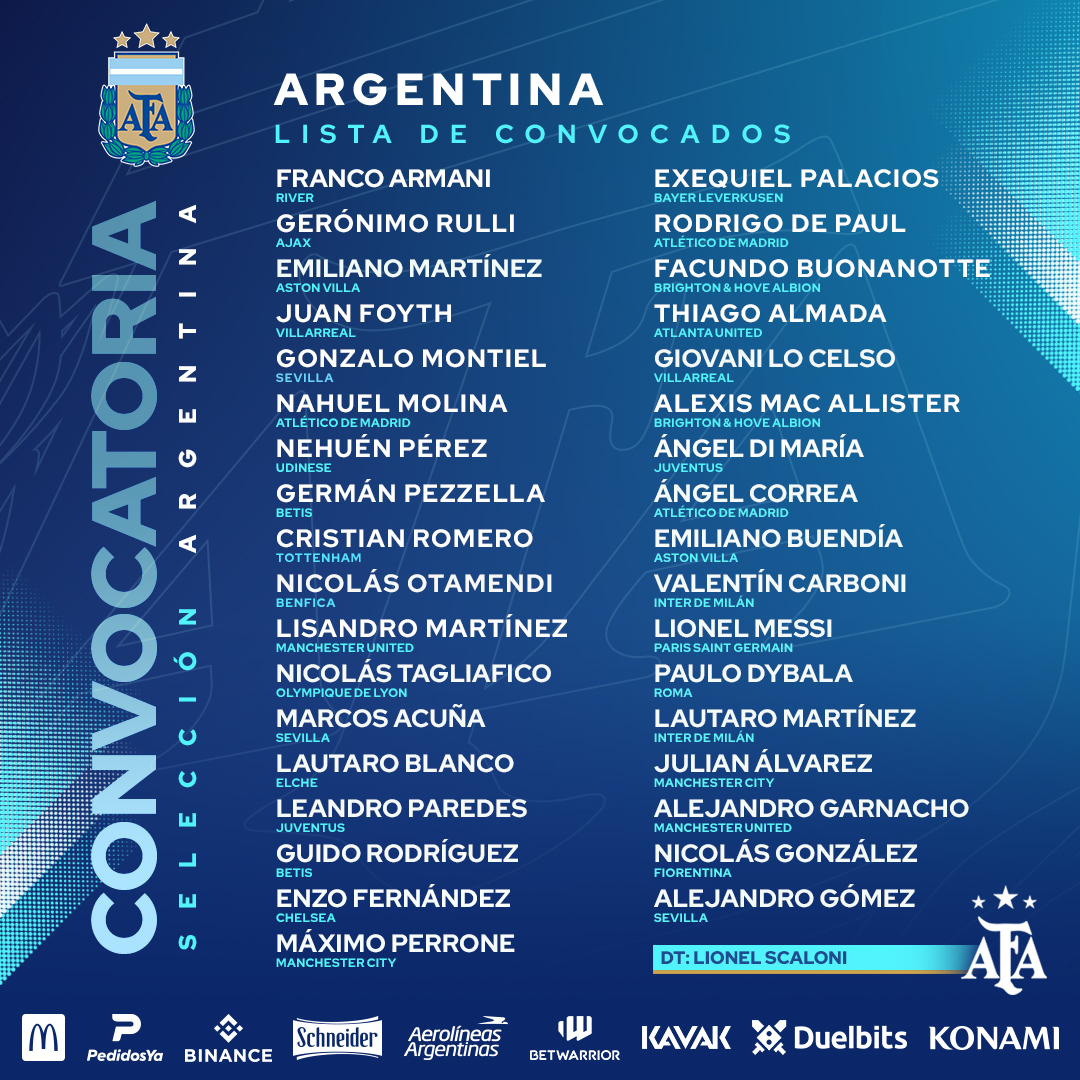 The list of summons of the Argentina team
Garnacho is said to have spoken to Spanish officials after being left out of the squad for the World Cup. Luis Enrique is expected to leave his post in December, with Luis de la Fuente taking over.