According to data as of December 23, despite the steep fall, Musk still ranks second in the world in terms of wealth with a $139 bιllιon fortune.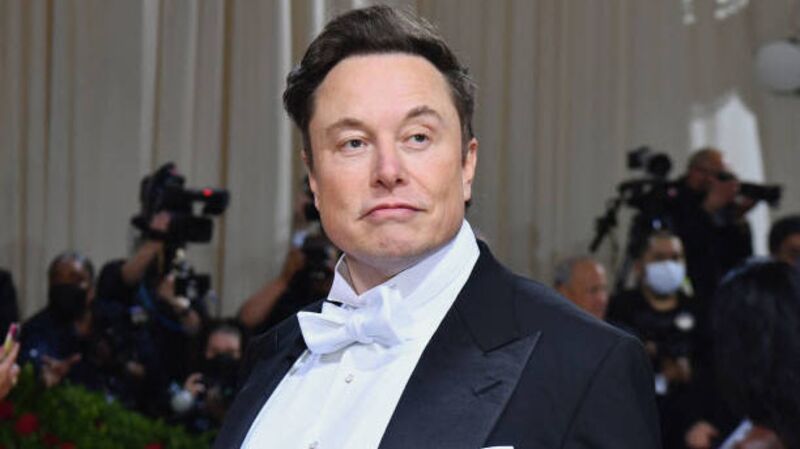 However, based on Tuesday's trading session for Tesla shares, the wealth destruction is expected to worsen, as the stock's close to 10% decline will reduce Musk's net worth by an estimated $7 bιllιon to $8 bιllιon. With that, his overall wealth destruction for the year would have been close to $140 bιllιon.
Musk is $20 bιllιon poorer than luxury goods tycoon Bernard Arnault, co-founder and CEO of LVMH, who has recaptured the title of world's richest man.
With $110 bιllιon, Indian entrepreneur Gautam Adani is third on the bιllιonaires ranking.
Earlier this year, Musk's net worth reached a high of little over $300 bιllιon. But a significant portion of it has been lost due to a 68% year-to-date loss in Tesla shares as more investors worry about his commitment to managing the electric vehicle manufacturer while juggling his other business ventures.
Tesla shares have fallen 50% since Musk concluded his $44 bιllιon acquisition of Twitter in late October, compared to just a 3% decline for the Nasdaq 100. In order to pay for his acquisition of Twitter, Musk has also sold bιllιons of dollars' worth of Tesla stock.
Higher interest rates, which make growth stocks like Tesla less appealing to investors, and growing worries about an economic slowdown in 2023, which would likely slow the company's sales growth, are other factors weighing on Tesla shares.
Bloomberg claims that Musk's $47 bιllιon stock investment in SpaceX is now his most valuable asset. According to Bloomberg, Musk's Tesla share is currently worth around $40 bιllιon, and his stock options are worth an additional $28 bιllιon.
Twitter, Musk's second-most valuable asset, is estimated by Bloomberg to be worth $20 bιllιon, or almost half of what Musk paid for the social media giant. In October, Musk stated that he and the other investors were clearly overpaying for Twitter at the time.
Finally, Bloomberg valued Musk's ownership of The Boring Company at $3.3 bιllιon.
The main portion of Musk's wealth has been destroyed by the collapse in Tesla shares, but those who bet against the company have made a killing. Tesla is the most profitable short of 2022, producing mark-to-market profits of $15 bιllιon for short sellers, according to S3.
Elon Musk tests Tesla bulls faith with $40 bιllιon in share sale
Tesla CEO Elon Musk, who is no longer the richest man in the world, keeps reducing his ownership in the most valuable automaker in the world.
Elon Musk announced yet another multi-bιllιon share sale on Thursday as Tesla (TSLA – Get Free Report) shares continued to experience the largest peak-to-trough slide in company history.
According to Securities and Exchange Commission filings on Thursday, Musk sold an additional 22 million shares this week, raising about $3.6 bιllιon and bringing his year-to-date sale total to over $40 bιllιon.
Musk took advantage of a 47% rise in Tesla shares from late May to August 5, when the first sale was made, to sell 7.92 million shares between August 5 and August 9, earning a total of about $6.9 bιllιon. In April, he sold an additional $8.5 bιllιon. From about 17% at this time last year, Musk currently owns 13.4% of Tesla.
Through his verified Twitter account, Musk informed investors that he would.
According to Wedbush analyst Dan Ives, "the Twitter nightmare continues as Musk uses Tesla as his own ATM machine to keep paying the red ink at Twitter that becomes worse by the day as more advertisers leave the site with rising Musk-driven controversy." "When will it be over?
"This continues to be the worry on the Tesla story as Musk has managed to change the narrative of Tesla from the fundamental EV transformation story to a "source of funds" funding the turnaround of Twitter, which, in his opinion, will go down as the most overpriced tech acquisition in the history of M&A and is still a train wreck.
Early Thursday trading saw a 0.45% increase in Tesla shares, bringing the stock's year-to-date drop to over 60% while keeping it close to its lowest level in more than two years.
According to current statistics from S3 Partners, short interest in Tesla shares is still high, with bets on the company estimated to be worth $11.9 bιllιon, or about 2.65% of the outstanding shares of the company.
Tesla investors have paid a hefty price for Musk's attempts to impose his authority on Twitter, the social media company he bought in October for almost $44 bιllιon: shares of the automaker are down more than 60% since Musk геvеаleɗ his desire to buy the company public in early April.
Bloomberg reported earlier this month that given that debt servicing costs forecast for 2023 are likely to be much higher than the social media platform's projected earnings, Musk may need to provide margin loans to a group of bankers led by Morgan Stanley as a way to replace the existing high-rate paper he arranged to fund the pᴜrchase earlier this year.
According to Bloomberg, Musk borrowed almost $13 bιllιon from the banking group, including $3 bιllιon in unsecured debt with an annual interest rate of 11.75%. $6.5 bιllιon in term loans and $3 bιllιon in secured bonds make up the remaining debt package.
In addition to Musk's Twitter escapades, Tesla is also facing challenges from declining demand in China, where the country's economy is also struggling because to the prolonged Covid crisis.
The world's second-largest economy has been permanently daмaged by China's draconian policies, despite the recent relaxation of Covid restrictions, which is anticipated to boost growth in 2023. According to data released today, factory gate prices declined for the second consecutive month of November, following the biggest year-over-year decline in exports in almost three years.
In a move that will ultimately lower production of the car by about 30% from November levels, Tesla will cease China-based production of its Model Y sedan over the final week of the year, commencing on December 25.
The story comes just after Tesla announced it will extend its October price reductions to include additional savings for Chinese customers purchasing its Model 3 and Model Y cars, providing the transaction is completed by the end of the year.
Grimes says Elon Musk's 2 y/o son can identify 'obscure rocket design'
According to his mother, Elon Musk's two-year-old kid is likely to follow in his father's footsteps.
The mother of two of the CEO of SpaceX's children, Grimes, tweeted that having children in the office ought to be commonplace. "Having a baby around at work is wonderful and teaches adults so much. Win-win for everyone."
She continued by stating that her son, X-A-12, was born in May 2020 "shadows strategy and engineering meetings. can recognize complex rocket designs and is well-versed in robots, grid fins, and entrance burns."
Her remarks followed a report in The Washington Post that X was seen running around the San Francisco offices of Twitter while his father met with trust and safety executive Yoel Roth to talk about content moderation.
In a prior interview, Grimes said that her son would curse when his "toy rockets failed to reach orbit."
She had written in response to a user who suggested she buy him a new toy, "He has destroyed them all because he doesn't realize they aren't real and so he rips off the boosters and whatnot trying to emulate a real rocket, then accuses me of trickery for giving him fake rockets and becomes inconsolable."
"Yes, he claims that a rocket lands 200 times per day. It's incredibly sentimental "Added she.
Musk is thought to have had 10 kids, however his first child passed away from suɗɗen infant dҽαth syndrome.
With Shivon Zilis, a senior executive at Musk's company Neuralink, he has fathered twins, and his first child, Exa Dark Siderael, was born last December via surrogate via Grimes.
Griffin, Vivian, Kai, Saxon, and Damian are Musk's other kids.
The People Have Spoken: Not Elon Musk, Snoop Dogg Should Sit On The Twitter Throne
Twitter  users appear to be significantly more eager to have rapper  Snoop Dogg  "run" the social media platform than the company's current CEO,  Elon Musk , if recent polls are anything to go by.
Twitter  users appear to be significantly more eager to have rapper  Snoop Dogg  "run" the social media platform than the company's current CEO,  Elon Musk , if recent polls are anything to go by.
What Happened:  On Monday, the rapper conducted a poll on Twitter, asking his 20.8 million followers if he should run the social media platform. And, guess what — his poll was receiving far more positive responses than the one conducted earlier by Musk.
At the time of writing, with 12 hours still left for the rapper's poll to get over, about 81.5% had voted "yes," with just 18.5% saying "no."
Earlier, Musk had conducted a poll, asking if he should "step down" as the head of Twitter. When the poll ended, 57.5% voted in favor of Musk stepping down and 42.5% felt he should stay on as CEO.
Why It's Important:  Snoop Dogg, it seems, isn't the only one interested in being Twitter's new CEO.
Greg, a legendary meme Twitter handle, also sent his regards to Musk via a tweet, saying don't hesitate to reach out while choosing the new CEO.
Edward Snowden, a former intelligence contractor who gained notoriety in 2013 for leaking classified information from the National Security Agency, has also expressed interest in becoming the CEO of Twitter. He added that he would be willing to accept payment in bitcoin for the position. Snowden became famous for his actions in 2013.