The girls are continuing their world tour this year, performing in major cities around the globe. Their latest destination is France, where they performed two performances of the 'Born Pink' concert at the Accor Arena in Paris.
As always, the BLACKPINK members drew a lot of attention as they dominated the stage with their presence and appearance. In particular, the BLACKPINK members have received attention when wearing luxury branded outfits that they are ambassadors on stage, proving that the girls are on another level.
BLACKPINK at the soundcheck before the concert
Even the guests at the concert were on a whole different level. An unknown character was discovered on the second day of the show in France during the sound check event.
"Brigette Macron, First Lady of France was seen at the sound check event of #BORNPINKinParisDay2"
During the event, French first lady Brigitte Macron was seen surrounded by bodyguards but kept a close eye on the girls as BLACKPINK checked the sound before performing.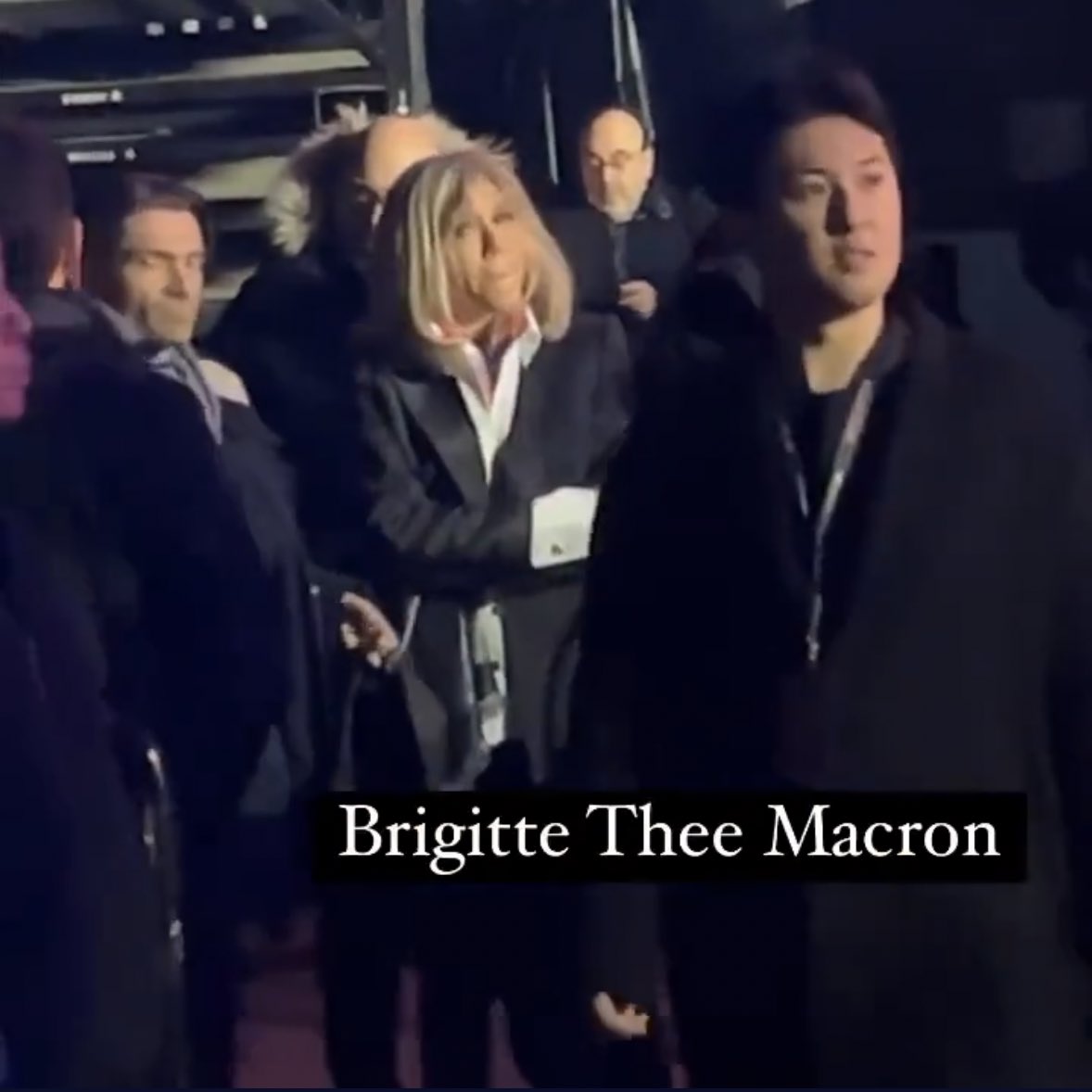 Photo: Twitter
Brigitte Macron , born in 1953, married Emmanuel Macron, who was elected as the 25th president of France in 2017. The first lady surprised many BLACKPINK fans when she was spotted at a K-pop concert.
Brigitte Macron
Meanwhile, BLACKPINK has been on a world tour following the release of their long-awaited 2nd full album, 'BORN PINK', visiting major cities across America, Asia, Europe and Moreover.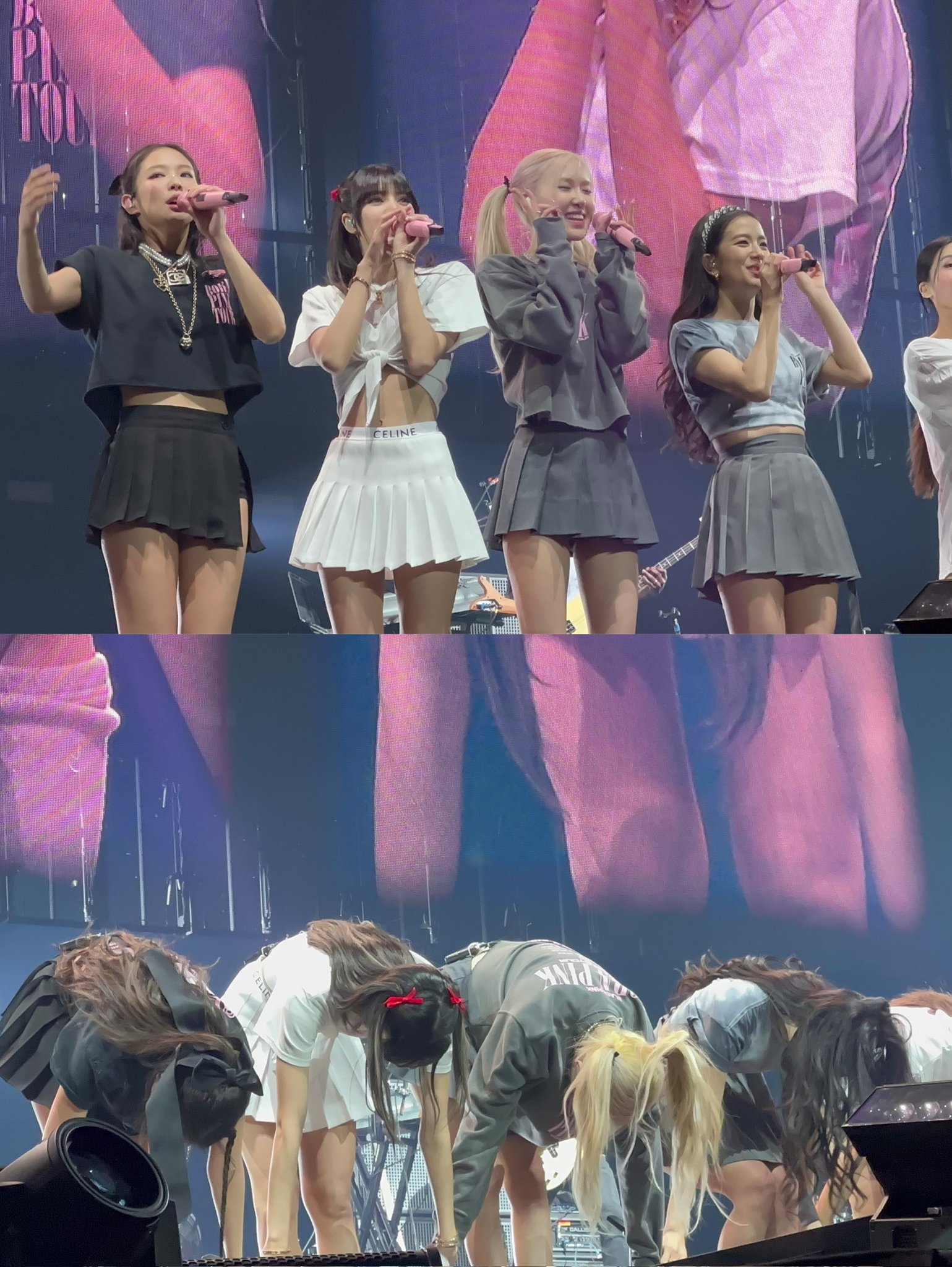 BLACKPINK
Jin (BTS) officially enlisted: BTS made a touching gesture, making fans "cry"
Jin (BTS) started his military service on December 13.
On the afternoon of December 13, Jin officially became the first BTS member to enlist in the army. He enlisted at the frontline division's training center in Yeoncheon, Gyeonggi Province, 60km north of Seoul. This is one of the harshest areas in Korea, at times the temperature drops to -20 degrees Celsius. After 5 weeks of basic training, Jin will be assigned to a local military unit.
Right from the morning, there were a lot of fans and reporters to see Jin off to enlist. To ensure safety, local authorities sent 27 riot police, along with fire trucks and ambulances here. Jin didn't get out of the car and went straight to the training center to avoid causing a stir, but fans were also pleased with the rare images on the first day of BTS's enlistment.
On social media, BTS members posted photos to see Jin off. Despite their busy schedules, Jimin and V quickly finished their work abroad to see off their eldest brother
The group together rubbed Jin's "quail egg head". This moment made fans extremely emotional. 7 BTS members have a special connection and bond like family members
Since morning, there have been a lot of reporters…
… and fans went to the training center to wait for Jin
Around the training center, fans have put many messages of encouragement and encouragement for BTS' eldest brother
Fans did not mind the long distance and cold weather to send Jin to the army. ARMY maintains a sense of order and does not cause a disturbance in front of the training center
To ensure safety, local authorities have tightened security, mobilizing 27 riot police, along with fire trucks and ambulances.
Jin didn't get out of the car to avoid causing a commotion, he went straight inside the training center
A rare image of the male god BTS on the first day of his enlistment was revealed. Despite the "quail egg" hairstyle, Jin still stands out from the crowd
Earlier on December 11, Jin showed off this short 3-inch hairstyle with the caption, "Cute than I thought."