Taylor Swift says she will "never walk Cornelia Street again," but you might want to. The famous apartment that inspired the singer-songwriter is back on the market, so you can rent Taylor Swift's Cornelia Street apartment in NYC. It will, of course, cost you.
For those who don't know, Taylor Swift rented the famous Cornelia Street apartment in 2016 while her apartment in Tribeca was being fixed up. Even though Swift only lived in the townhouse in the West Village for a few months, it gave her ideas for songs. She even wrote the song "Cornelia Street" about her time in the apartment, which is on her album Lover. Swift wrote "Cornelia Street" about a relationship she cared a lot about when she lived on Cornelia Street in New York City. If that relationship ended, it would hurt her so much that Swift says, "I'd never walk Cornelia Street again."
Many people think "Cornelia Street" is about Joe Alwyn, even though some Kaylor stans (fans of Karlie Kloss and Taylor Swift) would love to think it's about the end of their friendship. Swift rented the apartment around the same time she started dating Alwyn. According to this theory, Swift's time in the Cornelia Street apartment was a romantic one full of sweet memories of her and Alwyn getting to know each other.
How Much Is Taylor Swift's Cornelia Street Apartment In NYC?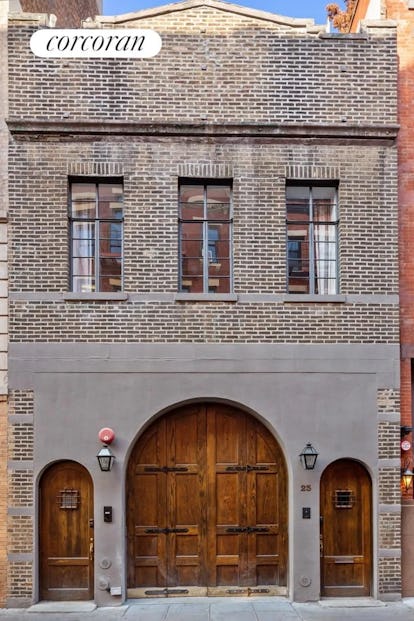 If you want to live in Swift's Cornelia Street townhouse, you might want to sell your Eras tour tickets. The townhouse is for rent for $45,000 a month. If you really wanted to follow in Dr. Taylor Alison Swift's footsteps, that could almost pay for a year of school at NYU. Living in New York City isn't cheap, but the Cornelia Street apartment has a lot of space and a great location.
First of all, many people in Manhattan dream of living in the West Village. You'll be near Washington Square Park and the subway station on West 4th Street. The Friends apartment and Carrie Bradshaw's brownstone from Sex and the City are also close enough to walk to from the Cornelia Street apartment. Magnolia Bakery is right around the corner. It's one of the most expensive and sought-after areas in the city.
What Does Taylor Swift's Cornelia Street Apartment Look Like?
Obviously, if you live in Swift's apartment on Cornelia Street, you won't have to go out too much. Your four-story home will have everything you need, including a gym and an indoor pool in the living room on the garden floor. Some Swifties might have been surprised by how modern the space is, since Swift's current home is more colorful and cozy.
The outside of the townhouse, which used to be a carriage house in the 1800s, looks like it belongs to Jonathan Swift, but the inside has been completely changed. There are also four bedrooms, so you can have a sleepover with your whole group of friends. Two of the bedrooms, including the main bedroom, have their own terraces where you can sip your morning coffee and look out over the West Village. Sitting outside next to the fireplace and "blessing the rains on Cornelia Street" or feeling the "autumn air" could even give you ideas for your own song. On the fourth floor, there is a rooftop for your guests who don't have their own terrace. You could sit on the roof like Swift and Alwyn, or you could invite all your best friends to a dinner party. If it gets too cold to stay outside, move the party to the dining room. It's right next to the kitchen, where Swift was "barefoot in the kitchen" in the song, probably making chai cookies or drinking wine.
The best thing about the Cornelia Street apartment for the Merediths, Olivias, and Benjamins in your life is that it allows pets. You can drive right into the garage, and there's a walk-in closet off the main bedroom that's perfect for all your cardigans and concert t-shirts from every decade. Also, let's be honest: having closet space in New York City is a big plus. It's easy to see why Taylor Swift liked her apartment on Cornelia Street so much.