During an online broadcast, Jin discussed his special time with his family during Chuseok, Korea's most important traditional holiday (Mid-Autumn Festival).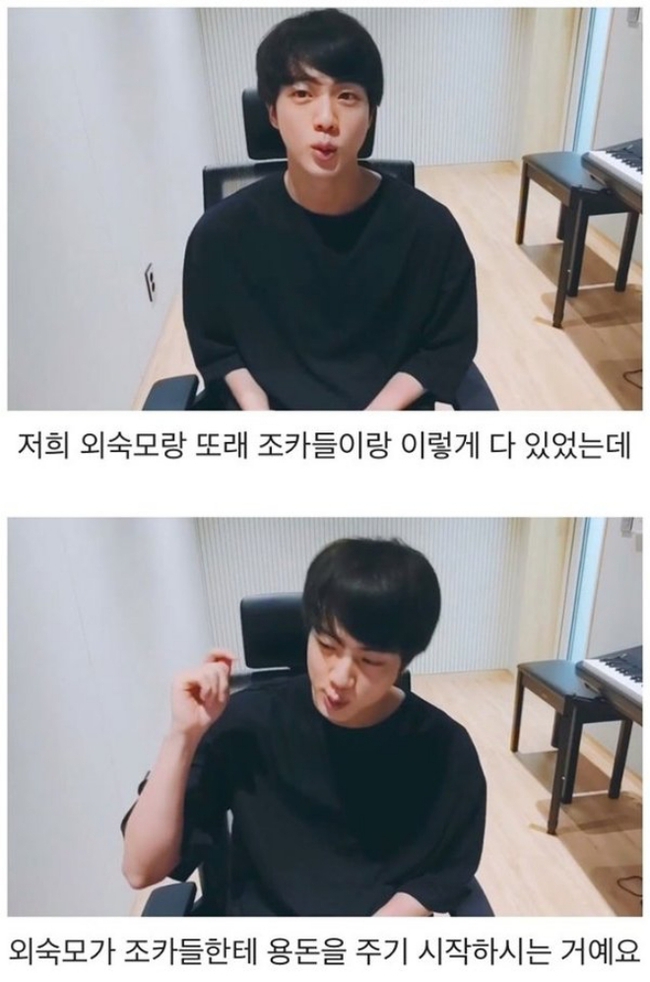 Jin on the livestream
On this holiday in Korea, younger family members bow and send greetings to the elderly to pay their respects. Adults, on the other hand, will give red packets to their children and grandchildren.
Despite being the oldest member of BTS, Jin is one of the family's youngest members.
He claimed to have bowed to all of his family's adults, including his aunt.
Jin recounts story to fans
The "trouble" story begins when Jin's aunt hands out red packets to each of his siblings one by one.
Jin stated that his aunt did not hesitate to give lucky money to his cousins, and that his aunt even gave red packets to his brother.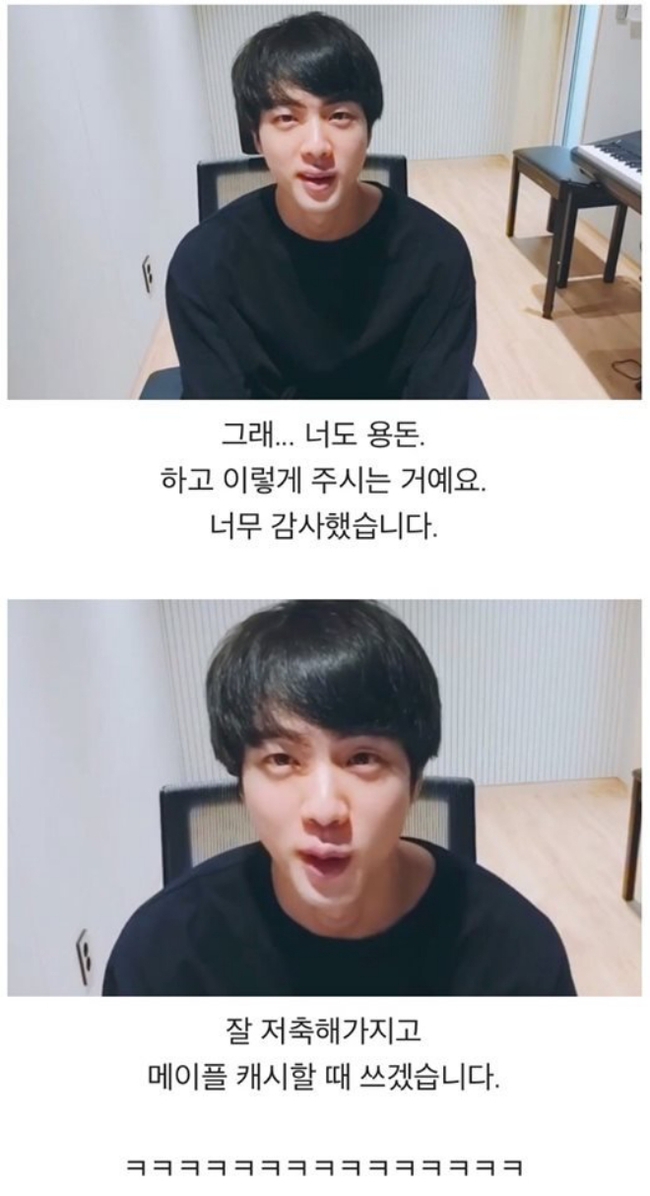 Jin will use the lucky money to play games
However, BTS's eldest brother was the exception, the aunt was quite confused and had to stop at Jin's turn for a while after hesitatingly decided: "Well… Well then, it's fine with me".
It seems that Jin's aunt had to think about whether to give him lucky money when the amount Jin earned probably far exceeded the family's income.
Jin loves playing games
With a huge fortune, Jin is still very happy when he receives lucky money from his aunt. He also humorously shared: "I was planning to use this lucky money to play online games. Thank you very much, my aunt!".
According to a source, BTS singer Jin will begin military service in South Korea
A source with direct knowledge of the situation confirmed Friday that K-pop superstar Jin will begin his mandatory military service next month, after the BTS singer appealed to the supergroup's devoted fans to stay away from his South Korean army training center.
According to the source, the 29-year-old star, BTS's oldest member, will begin service on December 13 at the Yeoncheon army base in northern Gyeonggi province.
Military service is mandatory in South Korea, where almost all able-bodied men must serve in the army for 18 months by the age of 28.
In 2020, South Korea's parliament passed legislation allowing pop stars – those who "excel in popular culture and art" – to postpone their military service until the age of 30.
According to standard procedure, Jin's service will begin with a five-week basic training course before being assigned to a unit.
The move was widely anticipated.
Last month, BTS' record label announced that all seven members of the group were planning to serve in the military, with Jin – who turns 30 on December 4 – being the first to enlist.
Jin posted a message on the fan community app Weverse on Thursday, urging fans not to go to the military training center to catch a glimpse of him amid reports of his impending enlistment. In the post, he did not deny the reports.
"Reports have come out against my will, but our ARMYs (BTS fans), should not come to the training center," he wrote. "It could be dangerous because the place will be crowded with many people besides me who are coming. ARMY, I love you."
V, Suga, Jin, Jungkook, RM, Jimin and J-Hope of BTS attend the Grammy Awards in Las Vegas on April 3, 2022. Jeff Kravitz/FilmMagic/Getty Images
BTS has been compared to The Beatles on numerous occasions, even ƅreaking one of the English rock band's records by having three Billboard No. 1 albums in a single year.
Their devoted fan base, dubbed the "BTS Army," propelled their music and defended them on social media in 2019, when the group was denied Grammy nominations. In 2023, they have been nominated for three Grammy Awards.
With military service looming, BTS announced in June that it would put solo projects on hold. According to their record label, the band will reunite in 2025.