Top 3rd generation  BLACKPINK  idol Jisoo  and rising 4th generation idol  NewJeans  Hyein  both wore a designer shirt and rocked it in their own way.
BLACKPINK Jisoo | @sooyaaa__/Instagram
NewJeans' Hyein | @newjeans_official/Instagram
BLACKPINK is currently on the European leg of their  45 concert BORN PINK world  tour and their most recent stop is the beautiful city of Barcelona, ​​Spain. The group performed in front of a sold-out crowd at the Palau Sant Jordi, which has a maximum capacity of 17,960.
Before changing into glamorous stage costumes for the show, the members greeted the lucky VIP fans for the first time in more casual yet personality outfits during their sound check. .
Jisoo, Jennie, Rosé and Lisa during the sound check of their Monday night "BORN PINK" London show | @honorslisa/Twitter
For BLACKPINK's Barcelona sound check, the group looked trendy yet relaxed as they chatted with fans before the show.
BLACKPINK during the sound check at the Barcelona concert "BORN PINK"
BLACKPINK's eldest sister Jisoo transforms her appearance with a trendy pair of oversized framed glasses. She donned a $375 Diesel gray printed cardigan and paired it with baggy khaki pants for a laid-back yet stylish look.
Her youthful beauty shines in everyday clothes.
| @SooyasSystem/Twitter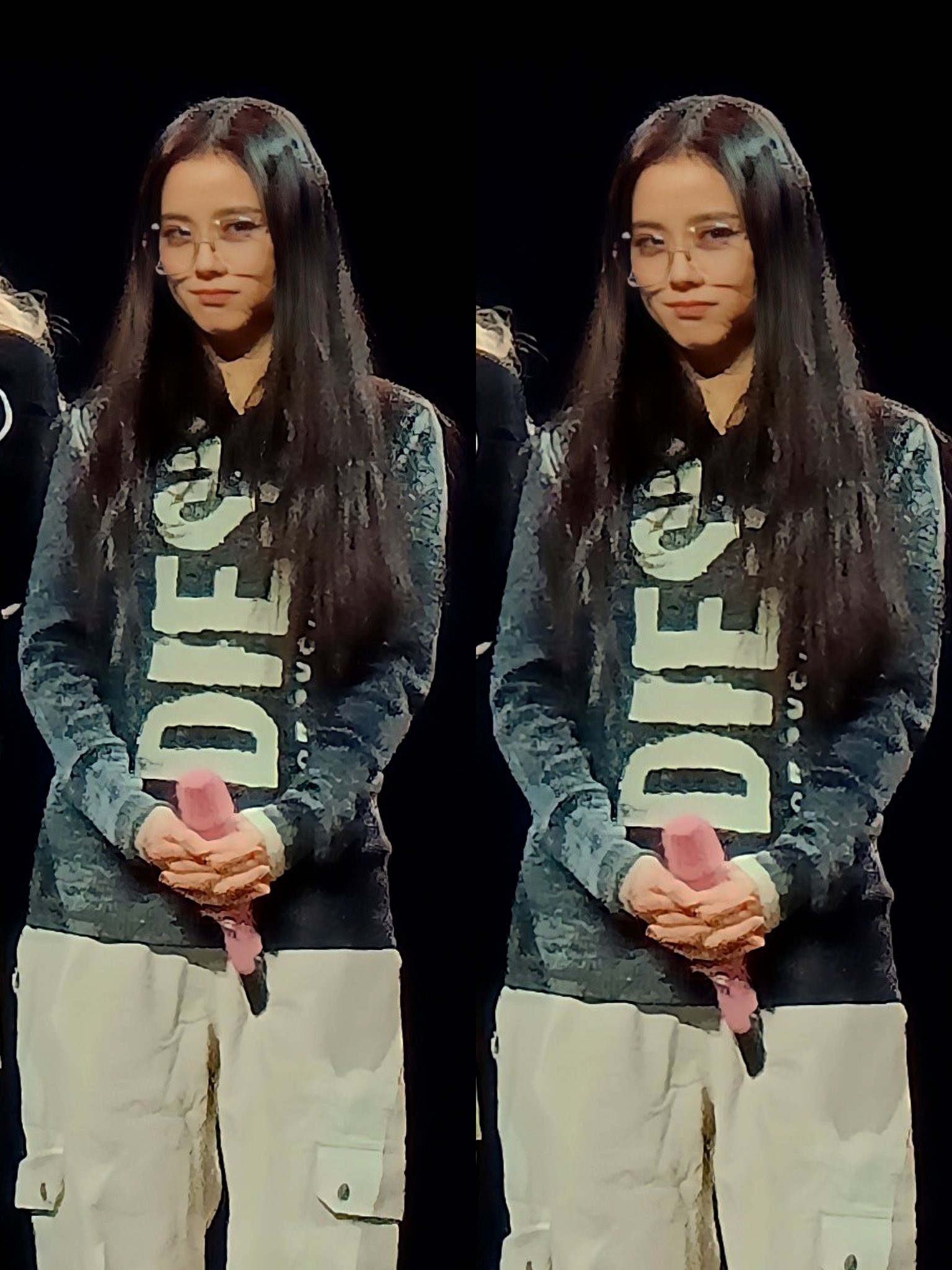 Photo: Twitter
NewJeans' Hyein also recently wore a Diesel shirt, but styled it in a different way.
| @NewJeans_twt/Twitter
Diesel has gradually become a prominent brand worn by K-Pop idols and Hyein was honored to attend the brand launch event in Korea in September.
The young idol drew attention with her chic and mature style at the event, receiving much praise for her model ratio.
NewJeans' Hyein at Diesel pop-up event in Korea 
That same month, she showed her love for Diesel again with her airport fashion.
On September 30, Newjeans left Incheon Airport to attend KCON 2022 Saudi Araʙɪᴀ. 
(From left to right) Danielle, Hyein, Minji, Haerin and Hanni of NewJeans at Incheon Airport
Each member wears a designer brand, and  maknae  Hyein wears Diesel from head to toe. She wore the same Diesel printed sweatshirt with the red logo and paired it with Diesel straight-leg jeans and heels.
She carried a $275 Diesel mini bag with the letter D to complete the look. The eye-catching outfit, high-rise jeans help to enhance Hyein's model-like proportions.
Compared to Jisoo's style, Hyein's outfit is a bit more luxurious when it comes to high heels and bags.
Both idols look shining in this outfit and are completely in control of their looks.