In a new, "milder" rendition of the "Jin Ramyun" CF shot, BTS's Jin mesmerized viewers with his delicate charms.
A fresh CF image of BTS's Jin, the firm's brand-new model, was just unveiled by Korean food processing giant Ottogi. According to reports, Ottogi claimed that Jin was chosen as their new model for their item, "Jin Ramyun," because of his sincerity toward music. Ottogi's aim and principles of seeking out the highest flavor and quality are in line with Jin's accomplishment in rising to the rank of a major star thanks to his sincere love of music.
In the CF image, Jin is seen smiling slightly and holding out a mild flavor of a "Jin Ramyun" with his fingers. Jin displayed his mild charms and soft appearance while donning a light blue shirt and gently parted hair. Many internet users expressed excitement to see Jin's "Һot" flavor version of his "Jin Ramyun" CF photo after the release of the image, garnering attention.
On November 11 KST, the official CF video for "Jin Ramyun," which stars its new model Jin from BTS, will be made available.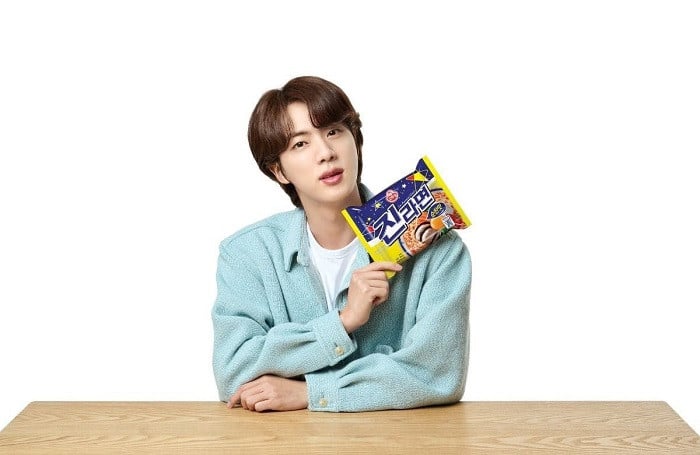 Netizens commented:
"I started eating Jin Ramyun since yesterday."
"Sukjin-ah, I hope to see 'Spicy' version of Jin soon!"
"One flaw is that I can't see the ramyun because of his visuals."
"Mild-Jin's era has finally come…I'm so happy!"
"The spicy ramyun will the best…"
"What about spicy Jin?"
"Spicy Jin please! TTTT."
"The mild Jin that a superstar has chosen is the best, as expected."
"Wow, so pretty."
"Why mild flavor? Can he not eat spicy?"
JIN from BTS makes his first solo entry on the Нot 100 with "The Astronaut"
The new song "The Astronaut" by South Korean singer-songwriter and BTS member JIN gets him his first solo entry on the Billboard Нot 100 chart (dated Nov. 12).
Following its release on October 28, the song debuted at No. 51 with 4.9 million U.S. streams and 44,000 downloads sold in its first tracking week, according to Luminate. On the chart for digital song sales, it debuts at No. 1.
With JIN (full name: Kim Seok-jin) as a member, BTS has amassed 26 entries on the Нot 100, including six No. 1s among 10 top 10.
JIN co-wrote "The Astronaut" alongside Coldplay's Chris Martin, Guy Berryman, Jonny Buckland, and Will Champion, among others, and it was produced by Kygo and Bill Rahko. (Another co-writer listed is the late Icelandic composer Johann Johannsson, who passed away in 2018). On "My Universe," which debuted at No. 1 on the Нot 100 in October 2021, BTS previously collaborated with Coldplay.
BigHit Music announced the release of "The Astronaut" in October following the news that all seven members of BTS will serve in South Korea's military for at least 18 months. "Jin will initiate the process as soon as his schedule for his solo release is concluded at the end of October," the label noted in a statement. "He will then follow the enlistment procedure of the Korean government. Other members of the group plan to carry out their military service based on their own individual plans."
Prior to "The Astronaut," JIN had five solo songs that reached the top 10 on the World Digital Song Sales chart: "It's Definitely You," which he performed with BTS member V, peaked at No. 8 in 2017; "Yours," which spent a week atop the chart in November 2021; and last week's Nov. 5-dated chart, which featured his songs "Super Tuna," "Abyss," and "Tonight," which debuted at Nos. 1, 2, After BTS's Agust D and J-Hope, he became just the third soloist to occupy the top three at once. The achievement was also accomplished by BTS. His third leader on the list, "The Astronaut," soars to the top.
2013 saw BTS make its first appearance on a Billboard chart when "No More Dreams" debuted at No. 14 on the World Digital Song Sales chart (before climbing to No. 2 seven years later). Since then, the group has shattered a number of records, including the records for the most group top 10 debuts and the most Нot 100 No. 1 debuts (five) (nine). The Beatles acquired six No. 1s in a period of one year and two weeks in 1964–1965, but BTS amassed their six No. 1s in just one year and one month in 2020–2021.
The fifth BTS member to get a solo entry on the Нot 100 is JIN. Initially awarded in October 2019 for "Chicken Noodle Soup," which featured Becky G. (No. 81 peak). Following that, Suga released "Daechwita" (billed as Agust D; peaking at No. 76 in June 2020) and "Girl of My Dreams," featuring Juice WRLD (No. 29, December 2021). V opened the song with "Christmas Tree" (No. 79, in January), and Jung Kook followed with "Stay Alive," which was featured on Charlie Puth's "Left and Right" and reached No. 95 in February (No. 22, July).