According to the official website of the Recording Academy, the eligibility period for the 2023 Grammys was from October 1, 2021 to September 30, 2022. Because Midnights is set to be released on October 21, it will have just missed the deadline for Grammy consideration by a few weeks. Even if it had been released earlier, Swift would have needed to submit the album by Aug. 31 to be considered for the 2023 Grammys. While it's too late for Midnights to be nominated this year, it could certainly be recognized at the 2024 ceremony instead.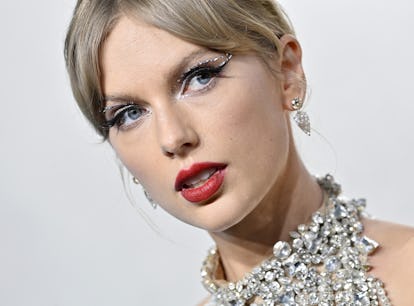 Swift, on the other hand, could have a big year at the 2023 Grammys because her latest re-recorded album, Red (Taylor's Version), is eligible for consideration. Variety reports that the singer submitted her song in 13 different categories. Record of the Year, Song of the Year, Best Pop Solo Performance, and Best Music Video are all up for grabs for "All Too Well (10 Minute Version)," while "I Bet You Think About Me (Taylor's Version) (From The Vault) is up for Best Country Solo Performance and Best Country Song.Swift also nominated "Nothing New" with Phoebe Bridgers and "The Joker and the Queen" with Ed Sheeran for Best Pop Duo/Group Performance. "Carolina," which Swift released on June 24 for the soundtrack to Where the Crawdads Sing, is also nominated for Best Song Written For Visual Media, Best American Roots Performance, and Best American Roots Song.
Swift eventually submitted Red (Taylor's Version) for Best Country Album. The original album was nominated for Album of the Year and Best Country Album at the 2014 Grammys.
The 2023 Grammy Awards will be held on February 5, 2023, at the Crypto.com Arena in Los Angeles. Let's hope Red (Taylor's Version) gets a few nominations!
How soon until Speak Now (Taylor's Version) is announced?
Taylor Swift certainly knows how to whip up a Swiftie frenzy. The singer made a golden appearance at the 2022 Academy of Music Awards, where she won Favorite Pop Album for her 2021 album, Red (Taylor's Version), among other honors. Swift clearly took the theme of her Midnights hit "Bejeweled" to heart with her shimmering outfit; however, many Swifties appear to believe her fashionable appearance extends beyond its intricate detailing. Fans believe her stunning ensemble suggests new music is on the way. Specifically, she is considering re-recording her 2010 album, Speak Now. Let us examine this theory.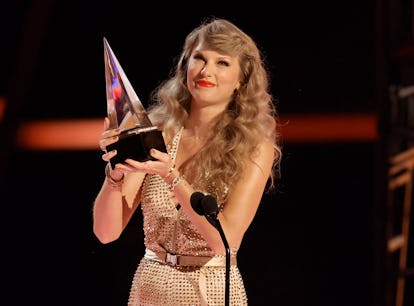 The singer wore her signature bold red lip, sword earrings, and her normally wavy blonde tresses in bountiful curls to the awards show. Swift's locks were a signature in her early career, particularly during her Speak Now era. It's been a while since the singer wore her curls, so it's no sᴜrprise that fans associated her most recent look with that reminiscence.
Another Twitter user, @Ioversdress, expressed a similar sentiment, implying that Swift will never beat the Speak Now re-recording rumors. Another observer, @thisisabbytryin, speculated that her sword earrings were a nod to Swift's song "Mean" from Speak Now.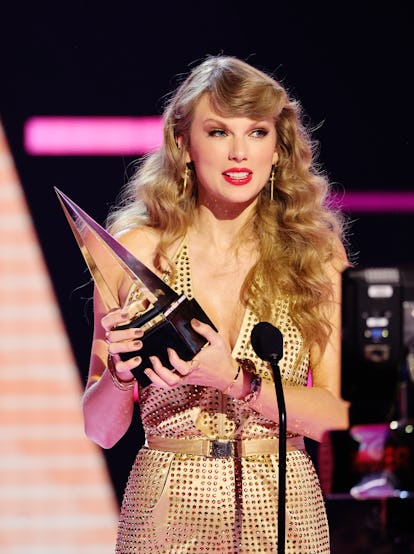 Given Swift's unofficial status as the queen of Easter eggs, this theory doesn't seem too far-fetched. It's worth noting that this isn't the first time the singer has given fans major Speak Now vibes recently. Swift included the violin solo from the instrumental version of "Enchanted," which appears on Speak Now, in the beginning of her hit "Bejeweled."
Only Swift could send her fans into a theoretical trance with the most insignificant fashion details. Swifties appear to be on to something based on these small hints.
Swifties aren't happy with Ticketmaster right now.
Pre-sale tickets for Taylor Swift's The Eras Tour turned out to be the only official ticketing options. Many Swifties registered for presale tickets for Swift's upcoming concert series, which begins in March 2023, through Ticketmaster's Verified Fan Program. However, not all fans had a trouble-free checkout. According to reports, the ticket vendor's website crashed, forcing potential ticket buyers to stand in long lines.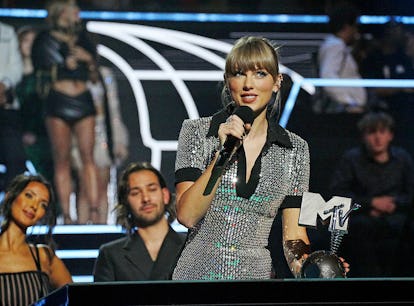 Ticketmaster canceled the general ticket sale for The Eras Tour on November 17 due to "insufficient" remaining tickets following Ticketmaster's Verified Fan and Capital One presales. Prior to this announcement, LiveNation chairman Greg Maffei told CNBC that 14 million people attempted to obtain presale tickets on November 15. However, there were only 1.5 "verified" slots available for presale.
"Despite all of the difficulties and breakdowns, we sold over 2 million tickets that day," Maffei told CNBC. "We could have crammed 900 stadiums."
Maffie also told CNBC that the Live Nations team was "sympathetic" to fans who were unable to buy tickets. "[The] reality is that it's a function of Taylor Swift's massive demand," he explained.
Ticketmaster has faced backlash from fans and government officials in the aftermath of the presale glitches. Rep. Alexandria Ocasio-Cortez even demanded that Ticketmaster's merger with LiveNation be "broken up."
Ticketmaster issued a statement on the presale fiasco on November 17. They noted that the 2 million tickets sold on Nov. 15 were the most for a single artist in a single day.
"We strive to make ticket purchasing as simple as possible for fans, but this hasn't been the case for many people attempting to purchase tickets for The Eras Tour," they wrote. Ticketmaster also justified the Verified Fan program, claiming that it is used to "help manage high demand shows" and "identify real humans" in order to prevent bots from overselling tickets.
Swift has not publicly addressed the presale debacle or Ticketmaster's cancellation of general ticket sales.