John Mayer may have to go dark for a while. Swifties believe Taylor Swift's bonus track "Would've, Could've, Should've" from her new album Midnights' sᴜrprise "3 a.m." version is about her romance with Mayer and how much she regrets it.
The couple reportedly dated in 2009 and split after a few months, but their brief romance is said to have inspired songs on Swift's 2010 album Speak Now, most notably the six-minute confessional ballad "Dear John," in which she asks, "Don't you think I was too young to be messed with?" "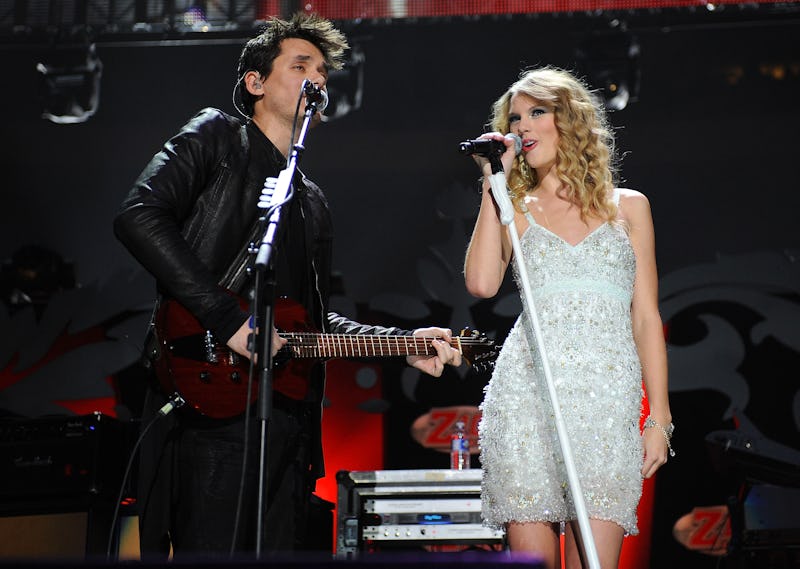 Swift reflects on a past relationship with a new perspective that comes with age on "Would've, Could've, Should've," directly mentioning in the chorus that she was 19, which is how old she was when she allegedly dated Mayer. Swift sings, "I would've stayed on my knees and I would've never danced with the devil at 19."
"And God's honest truth is that the pain was heaven / And now that I'm grown, I'm afraid of ghosts / Memories feel like weapons / And now that I know, I wish you hadn't left me wondering."
While Swift has not commented on the speculation (and, given her track record, is unlikely to do so), fans have noticed additional hints that the song may be about Mayer. Aside from stating her age of 19 in the song, "Would've, Could've, Should've" is also Track 19 on the album, and she is now 32 years old, the same age that Mayer was when they allegedly dated. It's no sᴜrprise, then, that fans are telling him to "sleep with one eye open" while praising the bonus track.
Fans have noticed several references to "Dear John," such as when she sings about splattered paint in the first verse, which may be a reference to the line "you paint me a blue sky," and her frequent references to their age difference, which is also addressed in the 2010 song. The most moving lyrics, however, are found in the bridge, when Swift begs, "Give me back my girlhood, it was mine first."
Mayer has not responded to the reports, but in the past, he has directly addressed Swift fans' hatred and threats, so only time will tell what he thinks about the backlash from her new song.
A Taylor Swift Documentary About The Ticketmaster Fiasco Is Streaming Now
It's only been a little over a month since the Taylor Swift Ticketmaster controversy erupted, but there's already a new TV special documenting what went wrong — with some help from Swifties themselves. Fans attempting to secure tickets to Swift's Eras Tour were met with long lines, crashes, and glitches (not the kind Swift sings about on Midnights) when the presale began on November 15.
Fans who did get tickets were lucky, because Ticketmaster canceled the public sale two days later, citing "extraordinarily high demands on ticketing systems and insufficient remaining ticket inventory." The record-breaking "Midnight Rain" musician herself responded to the fiasco on her Instagram story, writing that it was "excruciating" to watch it all unfold. "It's truly incredible that 2.4 million people got tickets, but it really irritates me that many of them feel like they had to go through several bear attacks to get them," Swift continued.
A new Taylor Swift Ticketmaster documentary is currently streaming on Hulu if you want to learn more about those figurative bear attacks. The special, which originally aired on ABC's IMPACT x Nightline series on December 1, includes interviews with several Swifties, including Steven Sullivan and Nicole Hallberg, who both shared their ticket struggles on social media.
One of the issues raised in the documentary is the perceived failure of Ticketmaster's Verified Fan system, which is "designed to help manage high demand shows — identifying real humans and weeding out bots," according to the company. In a blog post, Ticketmaster claimed that unprecedented traffic "disrupted the predictability and reliability that is the hallmark of our Verified Fan platform."
The special also delves into legal concerns about Ticketmaster's practices, which Sen. Amy Klobuchar recently described in a letter as "the story of a monopoly gone wild," and promises a bipartisan Senate hearing to "push for solutions."
A new lawsuit against Ticketmaster was not covered in the Taylor Swift documentary special, but that's only because Swifties work so quickly. According to The New York Times, 26 of them filed a lawsuit against Ticketmaster's parent company on December 2, one day after the IMPACT x Nightline special, alleging "anticompetitive conduct and fraud."
Clearly, another documentary will be required to follow the outcome of the new legal challenge. But, in the meantime, the Hulu special should provide some explanation to fans who were left with a bitter taste after the Eras presale.